Best Compact Flash Cards: Our Top Storage Solution Choices for Photographers

If you're a photographer with a Compact Flash card accepting camera, you might be wondering which Compact Flash card will serve you best as a storage tool. In this article, we share with you the best Compact Flash cards on the market.
Factors to Consider When Buying a Compact Flash Card
Since your Compact Flash card is your first point of storage for your images, there are certain important factors that you might want to consider when making your choices.
These include:
Storage space

Reliability

Write speed

Durability
To put these into some simple justifications, your Compact Flash card needs to have enough storage space that you can capture your desired amount of images in one session. The card must be reliable so you know that every picture is captured and stored. The write speed will help you determine if your images/videos will save as high-quality files. And finally, durability is with regards to the Compact Flash card being able to withstand extreme situations, drops, knocks, water spillages, etc.
Which are the Best Compact Flash Cards for Professional Use?
Here's the list:
Lexar Professional Compact Flash Memory Card
Lexar's Professional Compact Flash Card is one of the best options on the market. If you're looking for something that offers high-speeds, lots of storage, and a long life, this is the perfect memory card.
This Lexar Professional Compact Flash card is rated VPG 65. This means that the card is able to sustain a high read rate of 160 MB/s.
The card is ideal for shooting 4K as well as full HD videos and continuous RAW frame captures, such as when covering a sporting event.
Lexar Professional 1066x 128GB VPG-65 CompactFlash card (Up to 160MB/s Read) $189.95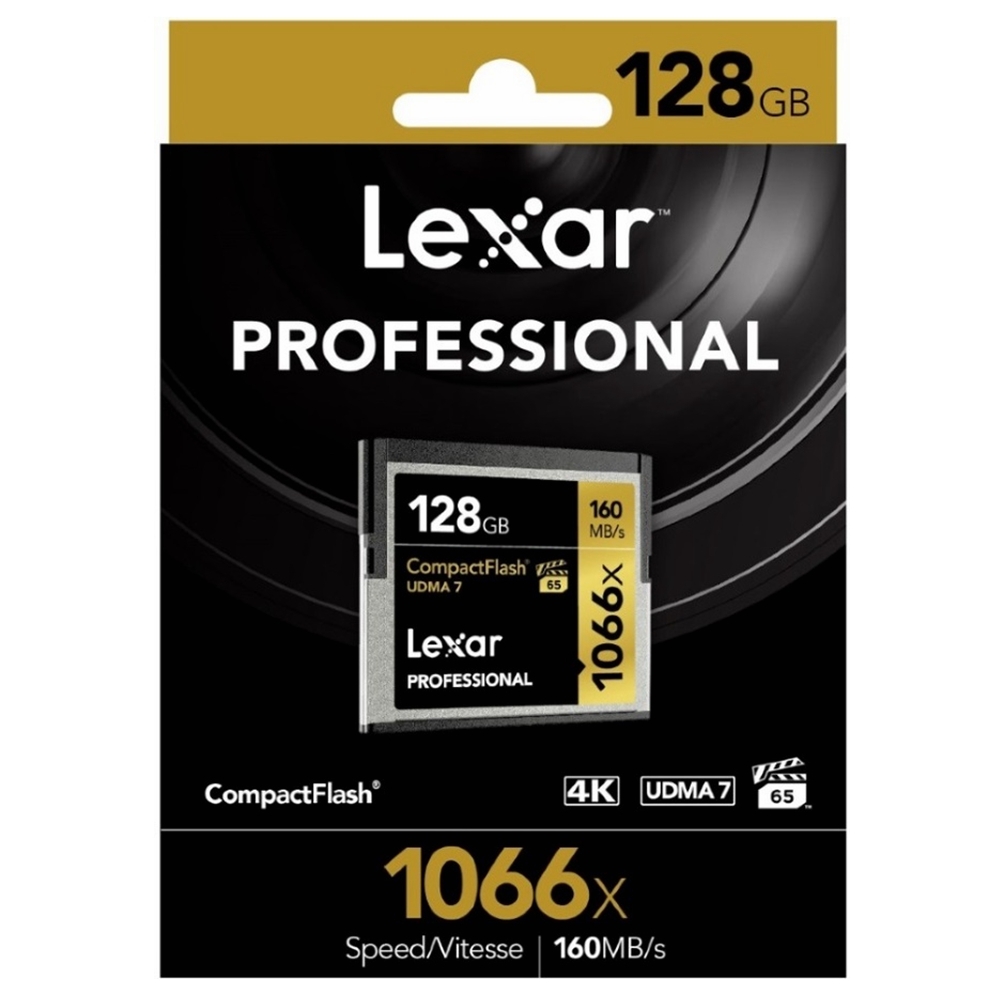 High speed performance, leverages UDMA 7 technologies to deliver a read transfer speed up to 1066x (160mb/s)

Captures high quality images and extended lengths of stunning 1080p full HD, 3D, and 4K video with a DSLR camera.

Supports the Video Performance Guarantee specification for professional-quality video (VPG-65)

High-speed file transfer from card to computer to dramatically accelerate workflow
SanDisk Extreme Pro Compact Flash Memory Card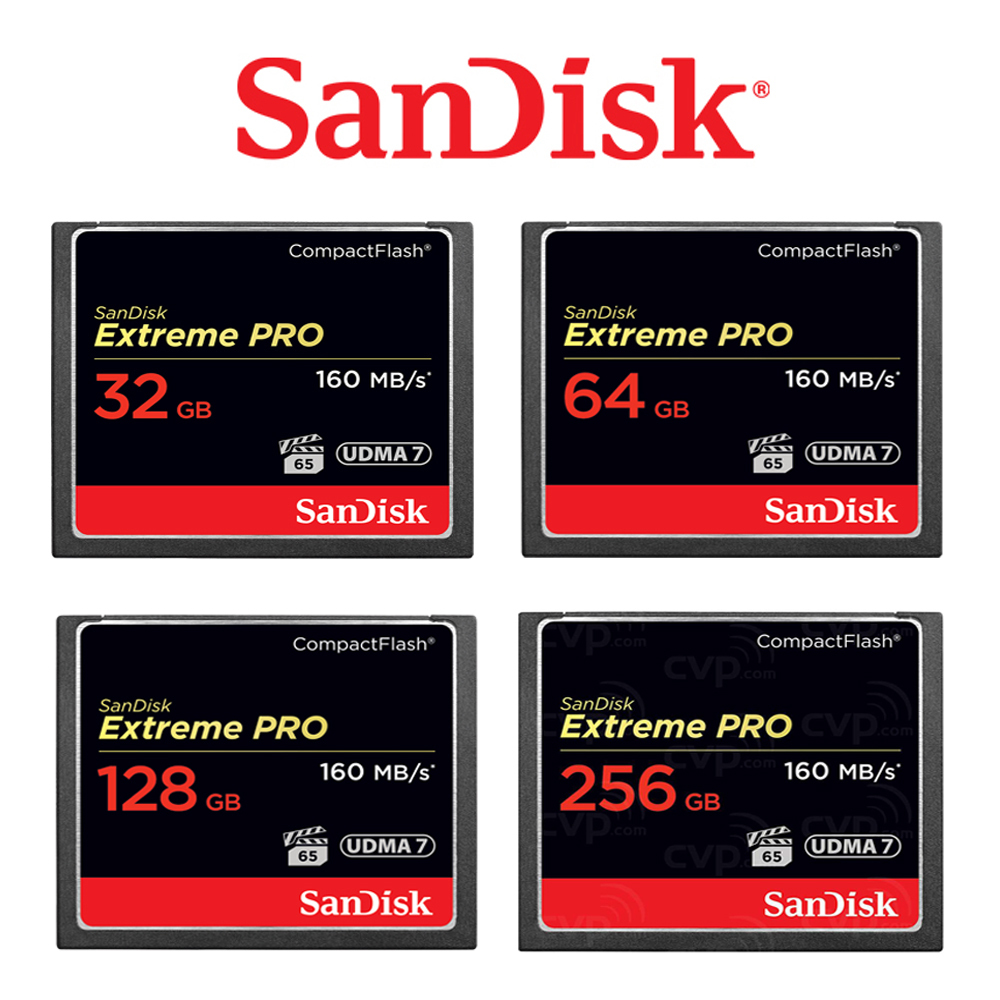 SanDisk makes some of the best known and widely used memory cards in the industry. The Extreme Pro comes with UDMA 7 rating which suggests that the card has a read speed of at least 160 MB/s and a max write speed of 150MB/s, with a minimum of 65MB/s.
As you can see, this Compact Flash card is very similar to the Lexar Professional Compact Flash Card.
If you're looking for a card that is optimized for 4K recording and high speed continuous RAW shooting, this card will meet all your high-demand needs.
SanDisk Extreme PRO 128GB CompactFlash Memory Card UDMA 7 Speed Up To 160MB/s $196.95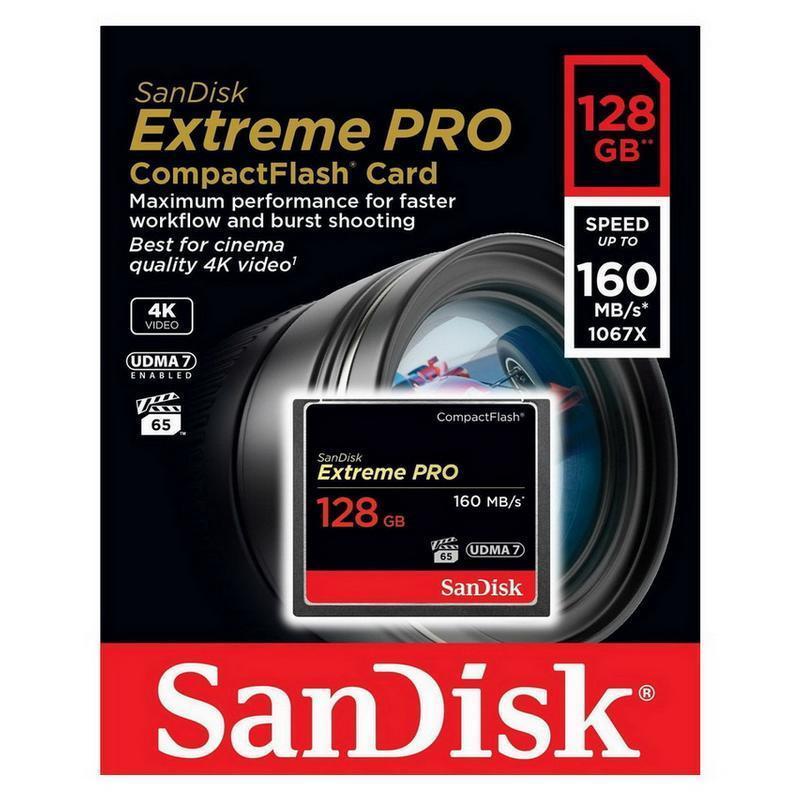 Records and captures cinema quality 4K and Full HD video

Video Performance Guarantee (VPG-65) delivers a minimum sustained write speed of 65MB/sec

Increase workflow efficiency with transfer speed of up to 160MB/s read speeds.

Includes a lifetime limited warranty and one year RescuePRO media recovery software download offer
Cheaper Options
Both the Lexar Professional and the SanDisk Extreme Pro labels come with premium labels that demand a higher price. If you are not looking to shoot videos and therefore don't require VPG-65 rating or a UDMA 7 rating the there are numerous cheaper options for you to choose from.
A very good alternative to the pricey Extreme Pro CF cards, SanDisk's Extreme cards are durable and reliable, and the best thing is that they don't burn a hole in your pocket!
With a UDMA rating of 7 and VPG rating of 20, the performance falls slightly short of the professional line. Max. read rate is 120MB/s and the write rate is given a maximum speed of 85MB/s. Sure, these aren't as fast as your high-end options, but you won't have any problems with them unless you're shooting 4K footage. With this kind of footage, things might start to get a little bit jumpy.
You can get these cards in a range of sizes to suit your storage and budget requirements.
SanDisk Extreme 128GB CompactFlash Memory Card $127.95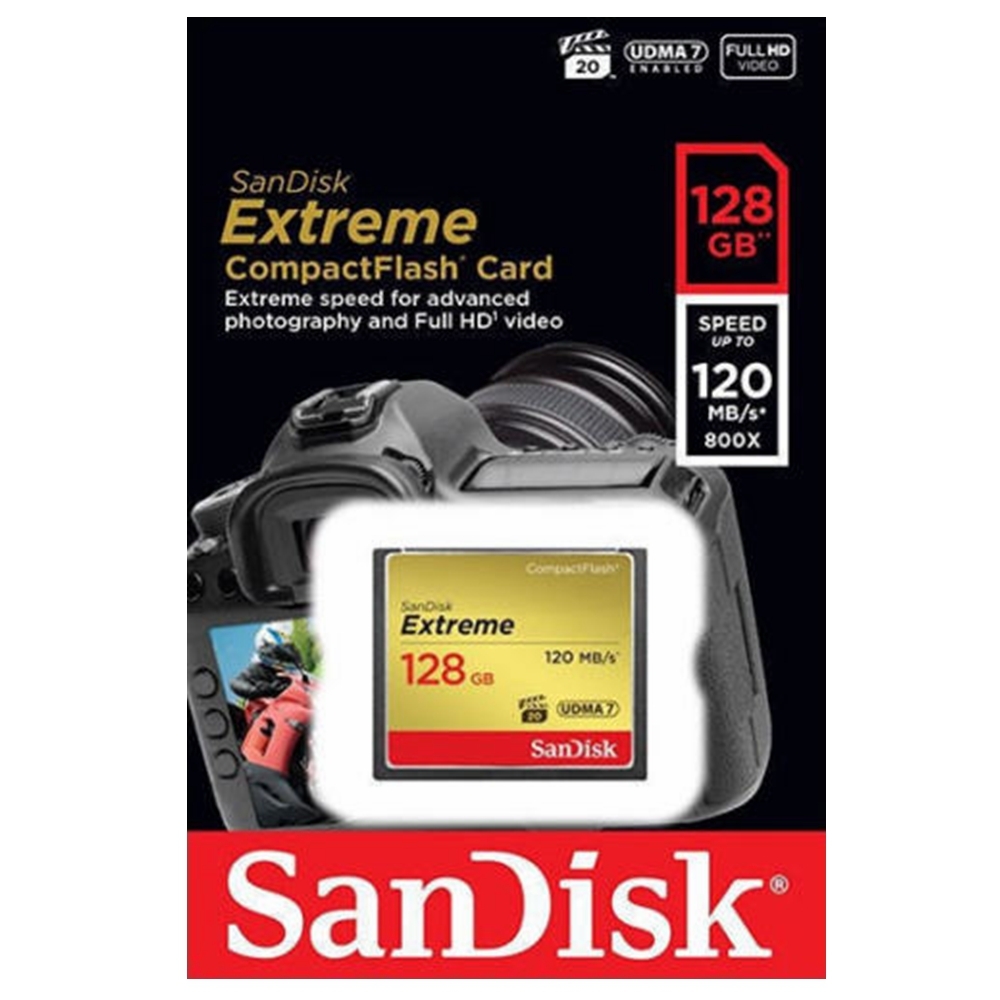 Exceptional Shot to Shot Performance ; Read speeds of up to 120MB/s and write speeds of up to 85MB/s

Professional Grade Video Capture ; VPG 20 ensures sustained data recording rate of 20MB/s for a smooth and unbroken video.

Durable Design; Backed by rigorous stress, shock, and vibration testing and includes RTV silicone coating for protection...

Warranty Backed by a lifetime limited warranty

It operates in nearly any climate, with a functioning temperature range of -13 to 185 degrees Fahrenheit
With a read speed of 50 MB/s, the SanDisk Ultra CompactFlash memory card is significantly slower than the best Compact Flash cards that we have listed here. Yet it gets a place here thanks to its super low price.
Often you don't need the fastest cards on earth, you just need the one that is the perfect balance between price and performance, the right fit. That's what this SanDisk Ultra memory card is.
You might be wondering how much the slower speed will limit you, but truth be told, you can still get quite far with this card. You'll be able to record in full HD and capture RAW image files with no obvious lag.
SanDisk Ultra 16GB CompactFlash Memory Card Speed Up To 50MB/s $29.95
Speeds up to 50MB/s for ultra performance

Ideal combination of reliability, value, and ultra performance

Great for entry to mid range DSLRs

Reliability from the brand trusted by pros

Fast write speeds to reduce lag time between shots
---
Leave a comment